Curriculum Statement
Intent:
Provide a structure that enables students to achieve appropriate qualifications that open doors to future earning and learning opportunities.
Create a robust curriculum that empowers staff to be consistently excellent practitioners and ensures exceptional student progress in all areas of their development.
Meet the needs of the students by establishing secure routines that empower them to develop superb personal, social and emotional skills.
Deliver excellent support that ensures all students access appropriately challenging academic learning to achieve mastery of subject knowledge and be proficient in a wide range of skills that can be applied across the curriculum.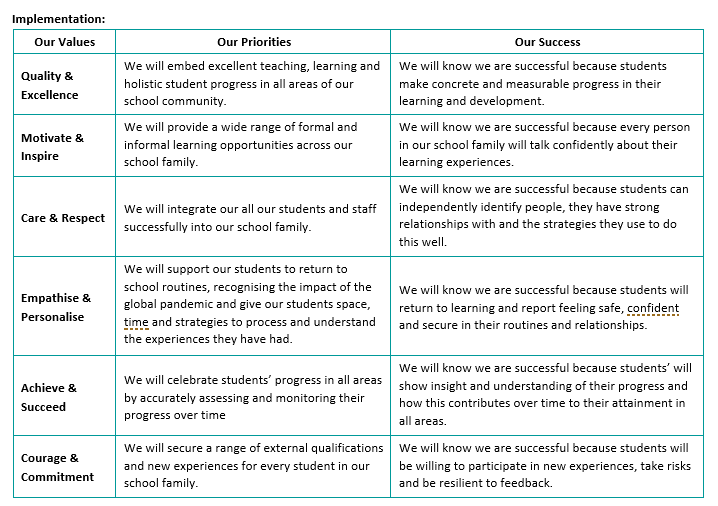 At ACE Tiverton, we offer a broad and balanced curriculum which builds on the knowledge, understanding and skills of all children, whatever their starting points, as they progress through each Key Stage. The curriculum incorporates the statutory requirements of the National Curriculum, within a three-year key stage three programme before moving to a two-year Key Stage Four curriculum that is framed by the requirements of external examination bodies. In all years and at all stages of learning, we provide a rich variety of other experiences which best meet the learning and developmental needs of the students in our school. The aim of our curriculum is for students to achieve mastery of the knowledge, skills and independence required for their next stage of learning as well as a strong foundation of lifelong learning, employment and success as a member of society.
Our philosophy is to provide a holistic, individualised approach designed to support students in fulfilling their potential. We have a shared vision to embed a nurturing and trauma informed approach throughout the school as we know that effective learning will take place when relationships are outstanding, staff are confident practitioners and students feel safe in their learning environment. The spiritual, moral, social and cultural development of our students and their understanding of the core values of our society are woven through the curriculum.
We deliver our responsibilities in PSHE, RSE, Careers and Citizenship through cross curricular thematic learning called 'Horizons'. At the heart of this is teaching that enables students to become independent learners, prepared for adulthood and to explore their curiosity of the world. This does not happen immediately, we need to establish routines for learning that are consistent, this allows them to increase their confidence in their own ability as well as in the support you will provide. Our approach to teaching and learning enables us to focus on the needs of the students in each lesson alongside the skills and content their need to progress. Through personalised planning the resources used each lesson stretch, challenge and most crucially support students to make more rapid progress as learners.
The outdoor environment and the local community are an opportunity for active learning for all our students and the school grounds have been developed so they can enrich different curriculum areas. Students have opportunities to share their learning with each other, their parents and carers and other learners regularly through the year. Developing their independence and motivation as learners and their sense of responsibility as future citizens is at the heart of all our teaching and learning.

Horizons Curriculum: At ACE Tiverton we are have our own unique curriculum strand called Horizons, aimed at broadening our students' global outlook and building their cultural capital. It is made up of the following areas:
Healthy Living (PSHE and Physical Wellbeing)
Healthy Relationships (Relationships and Sex Education)
Healthy Futures (Careers and Enterprise; Citizenship; British Values and Morals)
Life Skills (Independent Living; Preparation for Adulthood; Cultural and Spiritual Capital)
Mental Wellbeing - an ongoing theme that runs through all four of the above strands.
Programmes of study across all subjects will also outline how each unit connects with these areas, in addition to considering how to provide support and strategies in the four areas of need from the SEND Code of Practice:
Cognition and Learning
Sensory and Physical
Social, Emotional and Mental Health
Communication and Interaction

Curriculum Outcomes: Our specialist teaching staff design each programme of study to ensure full coverage of the national curriculum and preparation for GCSE and other appropriate formal accreditation in all subjects offered in our curriculum. Our subject offer and time allocation is as follows: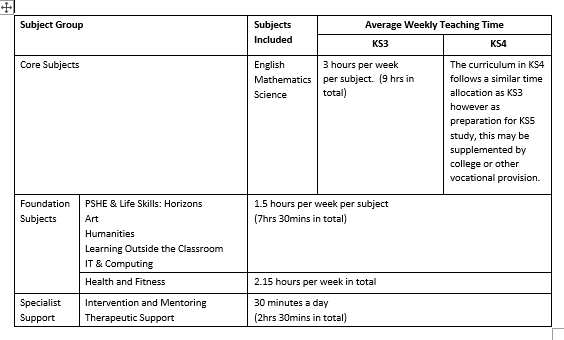 Our curriculum is based upon the ADPR framework, this enables us to align student's needs as determined in their Education, Health and Care Plan to their future aspirations and goals. Overall, preparing our students to be productive, strong and independent adults is the primary goal of our curriculum. By achieving this, we will equip students to be successful, productive and valued members of their future personal, social, learning and employment communities.